Fashion Jewellery Designer
A tribute to women's beauty
After leaving her investment banking career for good, Yasuyo rekindled a long-forgotten interest during her university days into a full-on career. Seven years into jewellery, Yasuyo's brand, Ayu Pearl, has expanded steadily. Her focus on pearl jewellery has garnered a large fan base and returning customers, with her business doubling every year!
But the popularity of her jewellery is not solely based on aesthetics, but her desire to bring out the elegance and beauty in women of all ages. Each piece that she makes showcases the femininity, grace and purity of her female clients. Her jewellery can be worn by mothers and daughters alike, as everyday accessories or as statement pieces that exude elegance and a hint of decadence for formal events.
Jewellery – a rekindled passion
Although she was interested in jewellery since university, she dropped the idea because jewellery seemed an unrealistic option at that time. It was not until she got married and left for London that she had more time to explore jewellery on her own. Later, she started to create simple fashion jewellery for boutiques in London. The sales re-ignited her passion in jewellery and gave her the confidence to seriously consider this path as a career.
Sailing away on a new journey
In 2010, following her husband as he transferred to Singapore for work, she discovered JDMIS where she learned more in-depth about jewellery design and fabrication. Yasuyo admitted that drawing was not her forte. Luckily with Tanja's patience and helpful teaching in Classical Jewellery Design course, she managed to build a solid foundation. Even though she finds new IT technology challenging, she mastered skills in Digital Design thanks to the dedicated guidance of the instructors at JDMIS. Moreover, the community and support network at the school was tremendously helpful because she could always learn from other like-minded graduates as they worked together at the Creative Jewellery Studio, and from industry guests at the JDMIS Meet the Industry sessions.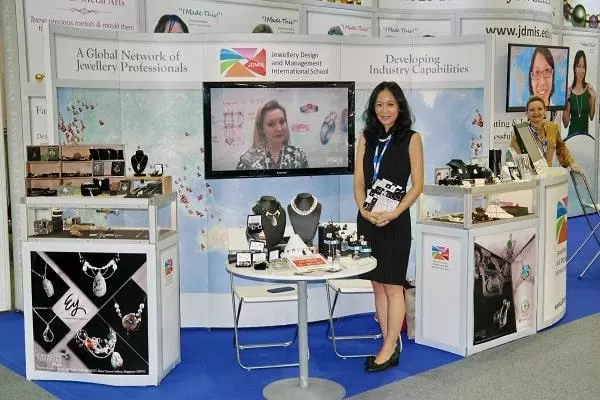 A voyage to her oriental roots
Her appreciation different cultures as well as her own mixed background have had strong influence over her jewellery design. Although she is of Japanese descent, she spent her childhood days in Paris and London immersed in European culture. At the same time, she also felt a growing affinity for her oriental heritage. These oriental roots are the reason she started with Jade and later Pearls as the primary materials for her jewellery lines. After she arrived in Singapore, she felt extremely at home in the city where its unique combination of modernism and Asian heritages continues to be a constant inspiration for her aesthetics.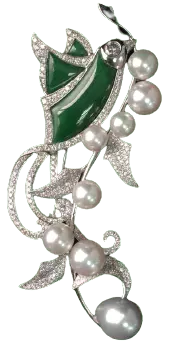 Yasuyo first explore jade as her primary material. However, due to the logistic difficulties in sourcing jade from China, pearls from Japan emerged as a better option. With the Japanese heritage as her advantage, she was able to explore more viable options with pearls. She believes that pearls are a woman's eternal best friend - powerful, instinctive and a playful material that can be worn on any day and on any occasion. With the aim to bring out a woman's beauty effortlessly, Yasuyo incorporates many feminine elements like the colours pink and purple, flowers like Sakura and ribbons in her jewellery line.
"Every woman has hidden beauty in her, this is brought out by wearing the correct design and material."- Yasuyo Ayukawa
Found her "pearl" success on the horizon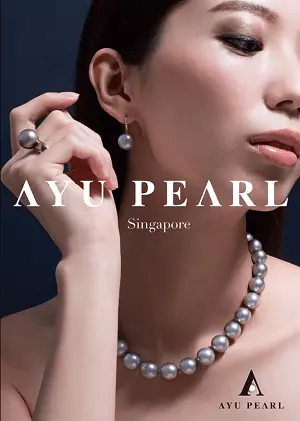 Several years has passed since she graduated from JDMIS and founded her own jewellery line, Ayu Pearl. As a jewellery designer, seeing her clients anticipating their purchase and feeling satisfied is what she is proud of. It brings her joy and a sense of achievement in her creations. On the other hand, as a jewellery entrepreneur, she has taken part in various exhibitions that have not only bought her sales but also a loyal customer base for her designs over the years.
Looking back on her jewellery journey, her advice to future entrepreneurs will be never be afraid to take risks. Without risk, there will be no gain. This conclusion came about when she had an unforgettable incident was during the International Women's exhibition in Kuala Lumpur a few years ago. To make it happen, she needed to spend a hefty sum to ship her jewellery pieces to Kuala Lumpur. Her efforts did not go to waste when she took that risk and persevered. Because surprisingly, she met some Singaporean clients who not only made purchases but also became loyal fans of Ayu Pearl.
Yasuyo first started in Classical Design and later enrolled in Fashion Jewellery, Digital Design and the Precious Metal Arts programme at JDMIS. After that, Yasuyo worked tirelessly towards the prestigious FGA (Fellows of Gemmological Association of Great Britain) and DGA (Diamond Member of Gemmological Association) international qualifications. For more information about Yasuyo and her jewellery collections, visit Ayu Pearl's official website or view a selection of Ayu Pearl products in Singapore at the Creative Jewellery Studio