Fine Jewellery Designer & JDMIS Alumnus
Modernising jade jewellery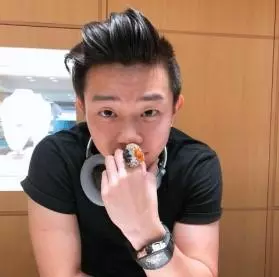 A graduate of the JDMIS Fine Jewellery Design Diploma programme, Alex Wong is now a third-generation jadeite jeweller with more than 9 years of design expertise. Through hard work and ingenuity, Alex revitalised traditional jadeite designs to appeal to a younger audience. Not only has he continued his family's legacy in fine jade jewellery, Alex is also creating stunning designs through his own designer brand to nurture the appreciation of jade for future generations to come.
Carrying on his family legacy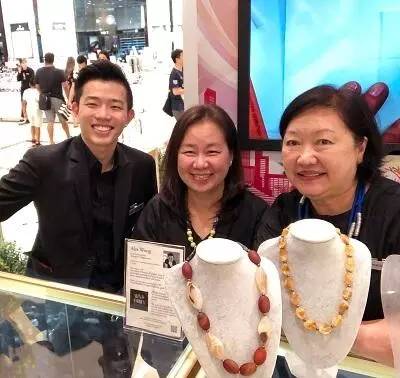 Wong's Jewellery was started in Hong Kong by his grandfather in the 1950s. However, with his father the only one left in the business, Alex decided to leave his career in the hospitality industry to take on the mantle of a jewellery entrepreneur and preserve his family tradition. Now, Alex's involvement has brought his family's business into its third generation!

(Above: A close-up of one of Alex's signature designs: an exquisite glass bangle protected by an 18k gold, black and white diamond wasp!)
Building a solid foundation with Jewellery Education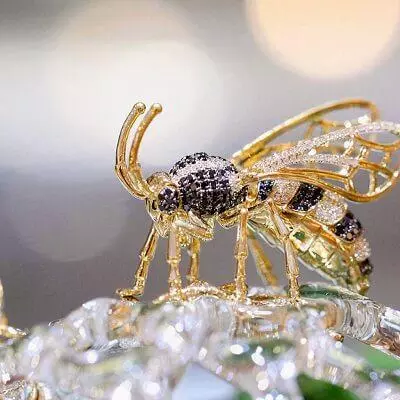 As a starting point in his mission to carry on his family business, Alex enrolled in JDMIS to kickstart his interest in jewellery and learn the ropes of the trade. Through the
Fine Jewellery Design Diploma
, Alex was trained in design fundamentals – traditional hand-drawing and creativity practices. This helped him to understand designs and put them onto paper in great detail, something that is crucial in order for him to communicate with his craftsmen.
(Above: Alex Wong with his fellow JDMIS alumni at a jewellery exhibition).
Throughout his learning experience at JDMIS, he also picked up other essential skills relevant to running his own jewellery business and has built a network of both industry peers and customers. As a member of the school's co-operative Creative Jewellery Studio, Alex has participated in jewellery exhibitions, department store concession events and other sales events that were both fun, enriching, and profitable for his growing business. They were also great opportunities to learn from his fellow designers – exploring interesting gem materials that others are making good use of, sharing design ideas, gaining insight as to why other designers' pieces sell, and evaluating his own products.
Setting up his own business and facing the challenges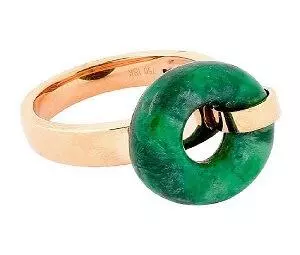 Despite being born into a family of jewellers, establishing his own designer brand came along with a set of challenges that Alex had to learn to navigate. As a jewellery entrepreneur, there were many factors to consider beyond the aesthetics of the designs in his jewellery line. It was a process of trial-and-error and hard work that Alex learnt how to source for reliable suppliers, as well as factories and craftsmen whose vision align with his.
"Some designers just want to sell what they design, but when you have a shop and rental to consider, you'll have to look at things differently."
One of Alex's greatest learning points was to adapt his business strategy to meet the demands of his customers, and at the same time retain the creativity in his works. Over the years, he honed his skills and acumen in catering to different segments of the market. Frequent trips overseas also allowed him to keep himself abreast of current and upcoming trends in the jewellery industry.
Finding inspiration from nature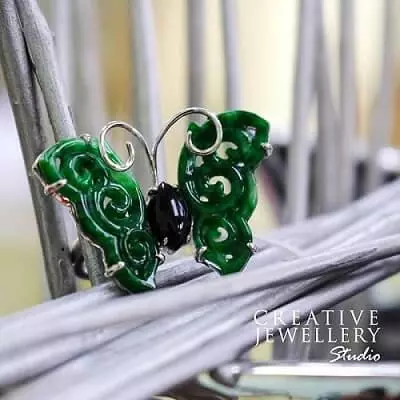 Given his family's trade, it is unsurprising that jade is often featured in Alex's jewellery. Much of his inspiration comes from the inherent beauty of nature - from the movement of creatures to the aesthetic qualities of flora and fauna. Their essence is captured with great attention to their shapes and lines, and the colours found in nature are brought to life with brilliant gemstones in his intricate creations.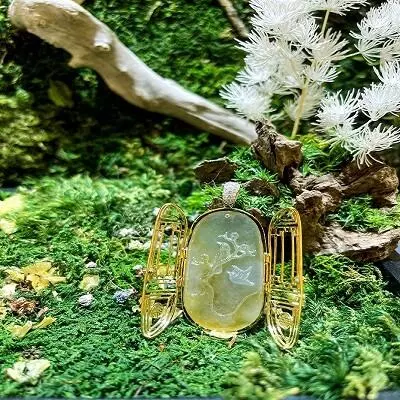 One stunning example of his work showcases the harmony of jade and nature. Titled 'Where flowers bloom, so does hope', the pendant of carved jade and elaborate gold work depicts a beautiful view of spring through an open window, symbolising long-awaited hope and happiness in the aftermath of the global pandemic. This pendant is a perfect embodiment of what Alex aims to represent in his brand: the beautiful balance of family, love, and poetry.
Bringing his brand to the world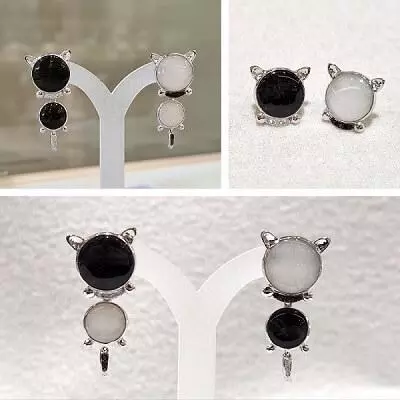 Even as he helps with his family's jewellery business, Alex is continuously working on his own brand – both at his jewellery store located in Chinatown and at the Creative Jewellery Studio. Now, his constant hard work has resulted in his business taking off, making sales in just two months that was equivalent to the past three years combined.
Through local and international jewellery fairs, Alex is actively promoting his jewellery brand and has visited Hong Kong for more than 20 exhibitions. His future plans include participating in more jewellery fairs, both locally and overseas, so that he can showcase the hidden talents of Singaporean jewellery artists to the world.
Alex Wong graduated with a
Diploma in Fine Jewellery Design
at JDMIS. Discover his elegant jade jewellery at his store at the
Creative Jewellery Studio
, or on his
Instagram page
.