As the dean and founder of JDMIS, a popular jewellery design and fabrication school, I have met, trained and mentored over 5000 jewellery artists and professionals. I am always looking for ways to stay ahead of the curve and stay relevant in an ever-evolving industry. That's why I am interested to talk about the increasing use of artificial intelligence (AI) in the world of jewellery design.
AI has the potential to revolutionize the way we approach jewellery design and fabrication. Some of the key benefits of using AI in this context include:
Fast-tracking the ideation process: AI can quickly generate a wide range of design concepts, allowing human designers to select the best ones to pursue further and streamlining the design process. This can save a significant amount of time and allow designers to focus on the creative aspects of design, rather than getting bogged down in the early stages of the ideation process.
Expanding design capabilities: As a designer, your creative options are influenced by your training and experiences. Being able to mention design styles you are less familiar with, cultural cues you may not have grown up with, and other key words that prompt the AI can expand your design horizons and help identify possible areas for your further research and design development.
Enhancing productivity: AI can allow designers and craftsmen to focus on the more creative aspects of design, while the AI handles the more tedious and time-consuming tasks of producing colour and style variations at the early stages of the design process. This can increase efficiency and allow designers to be more productive.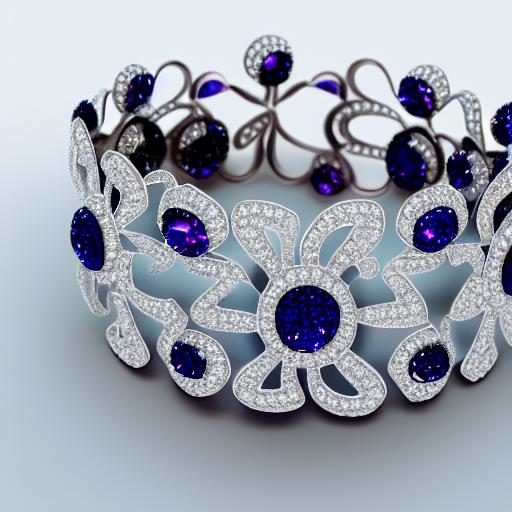 While the use of AI has the potential to improve efficiency and expand design capabilities, it's also important to consider its potential limitations and challenges. For example:
Integrating AI into traditional design processes may be difficult, as it requires designers to adapt to new technologies and ways of working. For example, designers need to build experience prompting AI tools to be able to extract useful results from the AI's outputs.
No AI generated content is manufacturable (at least using current generation technologies.) AIs are trained on visual queues but are not yet linked to expert systems that can validate and modify jewellery designs to make them meet necessary manufacturing requirements and tolerances, as well as adhere to industry standards for gemstone cutting, setting, wearer comfort and even budget! In our industry, at least, there is no short-term concerns over designers and craftsmen being replaced by AIs!
The use of AI in the jewellery industry raises broader questions about intellectual property. This includes questions of plagiarism – where an AI model could be trained on images of another designer's work and used to generate 'new' designs without crediting or remunerating the original designer. Today it is common for AI to be demonised because of these types of misuse – but in fact, our industry has dealt with these challenges for thousands of years! These issues remain valid, but not exclusive to AI technological developments.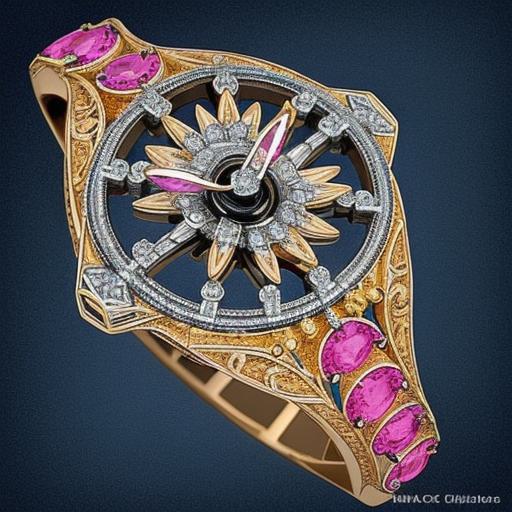 In reality, AI can enhance the productivity of jewellery designers and craftsmen by super-charging the early stages of their design process. As AI becomes more prevalent in the industry, designers will need to become proficient in working with these technologies and using them to help create the pieces they envision.
One new skill that will be increasingly relevant to jewellery designers in the future is 'prompt engineering', as designers will need to understand how to work with AI technologies and use them to bring their vision to life. This is a similar paradigm shift that happened a decade ago, when 3D jewellery designers needed to make the transition from being 3d artists, to 3d parametric modellers – building structured 'models' instead of directly manipulating the 3D shapes they were creating. Jewellery prompt engineers will build experience with a preferred list of terms, concepts and key words that help them get quick and usable results from different AI models.
However, it's worth noting that creative professionals from more traditional industries such as jewellery may not have access to the technology or contacts in their professional networks to help them explore emerging technologies like AI. This can lead to a divide between those who are able to embrace and utilize these technologies and those who are left behind. Organizations like JDMIS can play a role to minimise this. By working with employers to understand the impact of these technologies and helping to ensure that the skills our students learn remain relevant and useful, we can help to bridge this gap and ensure that our graduates are well-equipped to succeed in an ever-changing industry.
There is indeed concern amongst creative communities about the impact of AI on their industries. Many worry that the use of AI will lead to the automation of certain tasks, leading to job loss and a decrease in the need for human creative professionals. This is especially true in industries such as jewellery, where traditional techniques and craftsmanship are highly valued.
What we must remember is that AI is not meant to replace human designers and craftsmen, but rather to enhance their productivity and allow them to focus on the more creative aspects of their work. While AI can generate ideas and concepts quickly, it still requires human input and expertise to turn those ideas into commercially practical and manufacturable pieces. Moreover, the hardest part of being a successful designer is not sketching ideas – but identifying those ideas that, when taken to market, together with a well-executed brand and customer experience, will lead to stunning, lasting and saleable jewellery.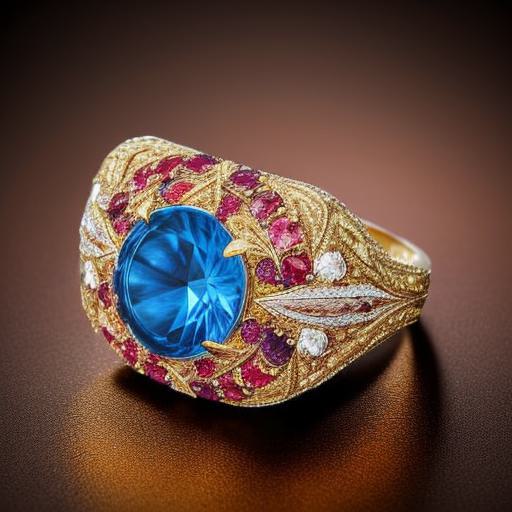 In fact, the use of AI in the jewellery industry can actually create new job opportunities for designers and craftsmen. For example, new 'design' roles may be needed to program and train AI systems to generate specific types of concepts or to work with new materials. Similarly, if the AI revolution spurs an increase in customization or trend toward uniqueness, more craftsmen may be needed to bring the wider range of designs to life, using their expertise in traditional techniques such as casting, soldering, and setting.
We believe that the future of the jewellery industry is bright, and that the use of AI and other emerging technologies will only serve to enhance the creativity and craftsmanship of human designers and craftsmen. By embracing these technologies and staying at the forefront of the industry, we can continue to create beautiful and innovative pieces that are treasured by people all over the world.
I'd love to hear your thoughts, concerns, and experiences with AI in jewellery! Please leave a comment and let us know what you think about the future of our industry and the role that AI will play in it.
Tanja
Appendix: Gallery of generated images
We installed Stable Diffusion on a few of our computer lab PCs and left them to generate several hundred jewellery designs.... not all were great, but there were lots of surprises! Below are a small selection of some of the more 'jewellery-looking' outputs that came from a variety of prompting experiments:
p>
All images above were created with Stable Diffusion, an open-source text to image latent diffusion AI model created by Stability.AI and released to the public in 2022. You can find out more on their github page: https://github.com/Stability-AI/stablediffusion. This amazing tool is not just open source, but thanks to a very active community growing around AI image generation, there are even simple, non-technical installation options for those that want to try it out for yourselves! What amazing times!
Tanja M. Sadow G.J.G.
Dean and founder of the Jewellery Design and Management International School